When the "heroes in a half-shell" came out with their second movie, there were tie-ins aplenty. Released alongside the rocking action in Teenage Mutant Ninja Turtles 2 were Hostess Ninja Turtle Pudding Pies. Where these pies generally had "fruit" and were a 90s version of a healthy snack, the TMNT version featured a green outer shell and vanilla pudding cream inside, this munchie lover's dream and our second MFMP (commercial included!).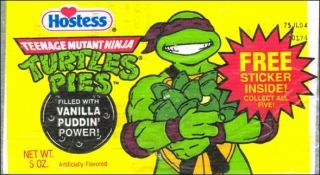 The Teenage Mutant Ninja Turtles were every young boy's favorite Saturday show and the tie ins went way beyond toys and unhealthy snacks, there was cereal, gelatin and more. These pudding pies will forever live in my mind as the most delicious tie in. I can remember heading down to the local deli with a dollar in hand to get some "turtle power" in the form of vanilla pudding cream encased in a sugary pie crust, what wasn't there to love?
In addition to being a delicious snack, these pies came with a TRADING CARD! That's right a card with Donatello (my fav), Leonardo and the other turtles or Shredder or Splinter, maybe even April O'Neil on them that I could put along my baseball and marvel trading cards and save and hopefully sell for tons of money!
Unfortunately these snacks were sold for a very limited time and rumor is their apple and blueberry filled cousins are no longer being sold by Hostess either. A MFMP that will always remain near and dear to me, Turtle Cream Pudding Pies truly were one of a kind. You can enjoy their awesome ad below.
Remember this snack? Love it or hate it? Let us know in the comments. If you have a MFMP you want to share, send us an email at 
or use our contact page.