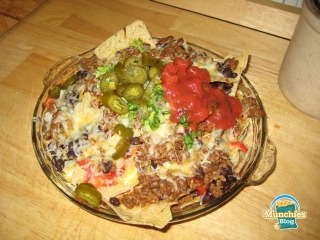 Using our easy homemade nachos recipe you and your friends can enjoy a big heaping plate of nacho chips covered in cheese, beans, olives, tomatoes, salsa, guacamole and more for the Super Bowl or your next event/gathering. While this tasty and popular treat is a staple at bars, restaurants and sporting events, people seldom realize just how easy it is to make at home. Our homemade nachos recipe offers something for everyone so lets get started by grabbing the following ingredients:
1 giant bag of nacho chips
2 pounds of whatever cheese you want (cheddar and jack is a great combination). Grated cheese is much easier, but also more expensive than getting a block and grating it yourself.
1 tub of sour cream
2 cans of refried beans
2 cans of black olives (extra large is recommended)
1 can diced tomatoes (or 5 juicy fresh tomatoes)
1 large jar of salsa

A lot of guacamole (either store-bought or using our amazing homemade guacamole recipe)
(optional) 1-2 jalapeno peppers
(optional) Some sort of meat
(optional) 1 medium red onion
Preparation:
If you bought the fresh tomatoes, dice them into small pieces, blot dry with a paper towel and set aside.
Slice the olives into small pieces. I recommend slicing them into thin "0's"

If you bought the red onion, dice it into small pieces
If you bought the jalapeno, slice it horizontally into thin "0′s"
Prepare the guacamole, as needed.
Grate cheese, if necessary.
Preheat oven to 350
Cooking the Nachos:
Using a large casserole dish or any other oven-friendly dish that is deep and big, spread a layer of nacho chips on the bottom.
Spread grated cheese liberally across the nachos. Keep in mind, once it melts there will be less cheese than you think there will be.
Spread out a large amount of refried beans over the cheese.
Sprinkle olive slices over everything

If you are using onions and jalapenos, spread a layer of these two over everything.
Lightly pour salsa, forming a thin layer on top of all the ingredients.
Spread out the remaining layer of nacho chips on top of the existing layer and repeat steps 1-5 (not 6).
Put dish in the oven for at least 10 minutes. When the cheese looks close to liquid, pull out and spread salsa, tomatoes and a light layer of guacamole over the entire top.
Put the dish back into the oven for another few minutes until the cheese is fully melted and the salsa, tomatoes and guac are warm but not steaming.
Either cover in guacamole and sour cream or serve on the side, depending on the preference of your guests.
Serve with optional hot sauces.
With our Homemade Nachos Recipe the possibilities are endless!
Depending on your crowd, you might want to put some sort of seasoned meat or chicken in the middle and on top as well. Also if you are doing it for the Superbowl, World Cup or other event, feel free to add team related elements too. That's the best part about this homemade nachos recipe, now that you have the base down, you can pretty much turn it into anything you want. Enjoy, and don't be surprised by all the full and satisfied bellies after the plate gets housed. Don't forget to check out our chip reviews to find the best nachos and chips to use!